Crossfire Youth Ministry
For I know the plans I have for you, declares the Lord, plans for welfare and not for evil, to give you a future and hope. (Jeremiah 29:11)
Here at the Potter's House Youth Group in Reno, our Vision is to see each and every one of our youth fulfill the destiny that God has waiting for them. We focus to show our teenagers that they can live life to the fullest while putting God first. We strive to impart a passion and desire for God that would spread to the youth of this generation.
Every Friday Night at 6:30. Age group is 13 and up. With plenty of fun and refreshments.
Youth Group Director Nolan & Desteny Thom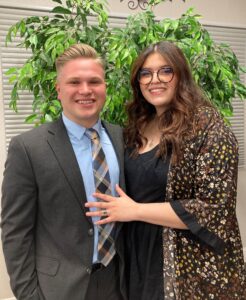 Youth Group Director Austin and Jackie Thom
Join us in our mission to inspire and guide the youth towards a fulfilling and faithful life with God! We tackle real-life issues such as temptation, relationships, and dating, with the full support and encouragement of our church leadership and families.
But it's not all serious business! We know how to have fun too! From door-to-door outreach to street preaching at the mall, we engage in exciting and impactful activities that bring us closer to our community. And for those looking for a more leisurely experience, we offer a wide range of recreational options such as sports, bowling, golfing ranges, ice blocking, and volleyball.
But that's not all, we also plan exciting trips throughout the year, including visits to Six Flags and our international Bible Conference in Prescott, Arizona. So, whether you're looking for spiritual growth or just want to have a great time with like-minded individuals, come and join us on this incredible journey of faith and fellowship!